[SOLVED] Debian Squeeze and ntp offset
forum:nfn
Hello,
I setup a new linode with Debian Squeeze and my ntp is giving me this: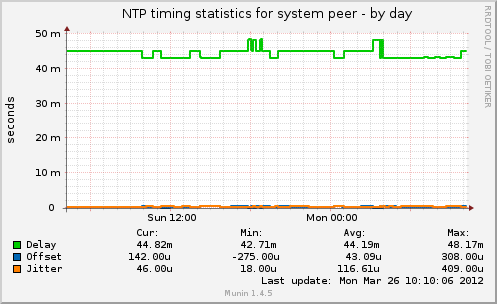 ~~![](<URL url=)http://i295.photobucket.com/albums/mm12 … et-day.png">http://i295.photobucket.com/albums/mm128/nunofneves/ntp_offset-day.png" />
The time zone and date is right, so I don't know why munin is showing this.
Thanks~~
9

Replies
forum:dcraig
What would you rather Munin show you? Your server is about 45 ms from your preferred reference time source and your local clock's offset from reference time is less than 50 microseconds. You could reduce the delay by picking NTP servers that are closer to your location. Otherwise, none of these values are unexpected or odd.